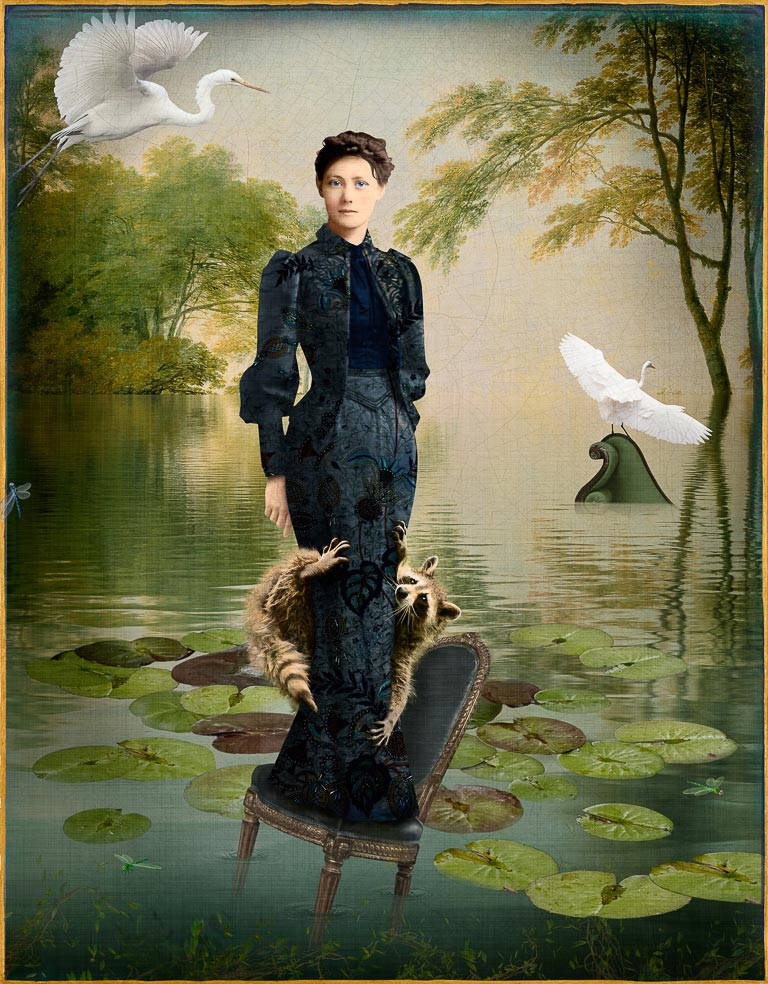 This woman of elegance is in a trying situation. The land is flooded. A raccoon is saving himself by wrapping around the woman's legs, claws out. Her house is probably underwater. Her sofa floats and now is only useful to a perching Great Egret.
It's quite possible the flood is because of climate change.
She stands, untroubled on the small, tilted surface of a partially-submerged chair.
From her shoulders to her finger pointing gracefully downwards, she displays composure, while wearing a fine beaded skirt and jacket, not a hair out of place, as dragonflies hover around her.
Can you relate? The waters are rising and the raccoons are clinchy. Your sofa is history. But you have POISE.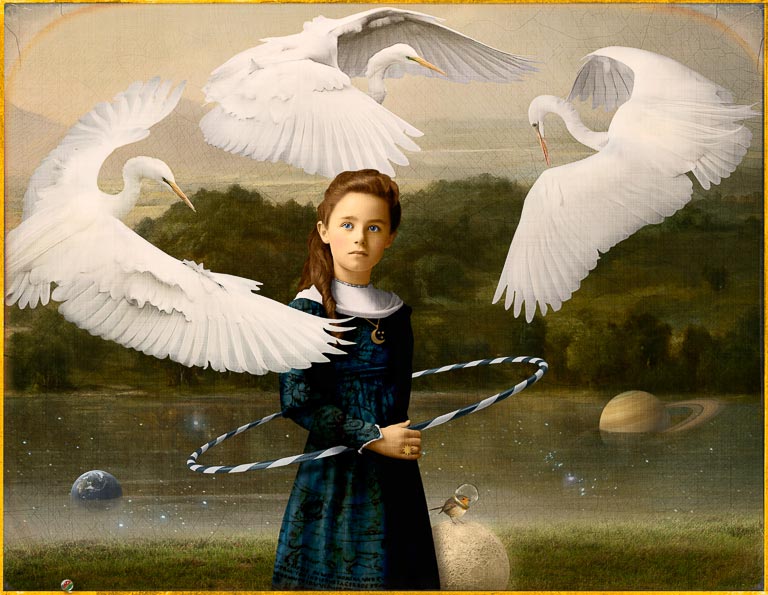 Leave it to a girl to make a universe.
Elements of a universe lie around her. The moon is at her feet. Planets float in the river behind her, which is filled with stars for the universe. It's all ready for her to connect, position and set into motion.
Her sidekick is a small bird. He's already put his space helmet on. He's standing, all systems go, on the moon. I chose to use a European robin, because they're round, round as a little planet.­
There's a marble balancing on the edge of the picture. When we were kids, we all thought marbles looked like planets. I keep a bowl of them on the desk where I work.
There needs to be energy to connect the elements of her universe and put them into motion. She's about to begin generating the speed and centripetal force required for orbit. This she'll do with the spin of her hula hoop and the force of the birds revolving around her.
The girl's original photo was taken by my great-great grandfather's business partner, George Edward Anderson, a prominent early photographer of the western United States. The girl's gaze is strong enough to drive the whole picture…and to create a universe.
I was stunned by the moon landing when I was young. My brother made a space capsule for my hamster. He was going to launch it from the top of the drive-in movie theater screen, just about the highest spot where we lived. (He later became a high energy particle physicist.) All things seemed possible.
The universe is fundamentally miraculous.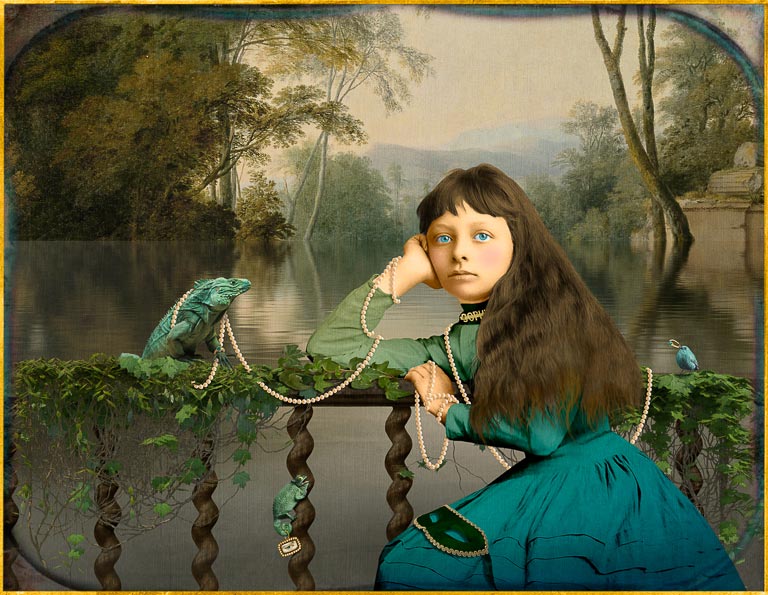 The photo I used for the girl in "After the Heist" was taken by George Edward Anderson, a prominent photographer of the west in the early 1900's. My great-great grandfather was his business partner for a time. Many of my family photos were taken by Anderson. Anderson had a gift for relaxing people in front of the camera and bringing out the heart of who they were. Many of the people look deeply into the lens, as Sophie does here. We know her name is Sophie, because of the pin on her collar.
The accomplices are relaxing after the heist. I'm fascinated by "Lover's Eye" jewelry. The chameleon is too and has stolen a nice one. The bird took something just his size, a little ring with a stone the same color as himself.
I wanted to connect the characters together visually with a string of pearls. I painted separate pearls in Photoshop with Photoshop brushes I've made, put all the pearls together into strands, one by one, and rotated them so their highlights and inner shadows worked with the picture's light source.
I like mixing a humorous subject with a serious, classical landscape. Here I've used bits of "Diana and Her Nymphs" by Laurent de La Hyre, 1644 as a background.