SHOWING AT THE HOPKINS CENTER FOR THE ARTS
"Interview" and "After the Heist" were juried into the 28th Arts North International at the Hopkins Center for the Arts, just outside Minneapolis. January 14 – February 25, 2023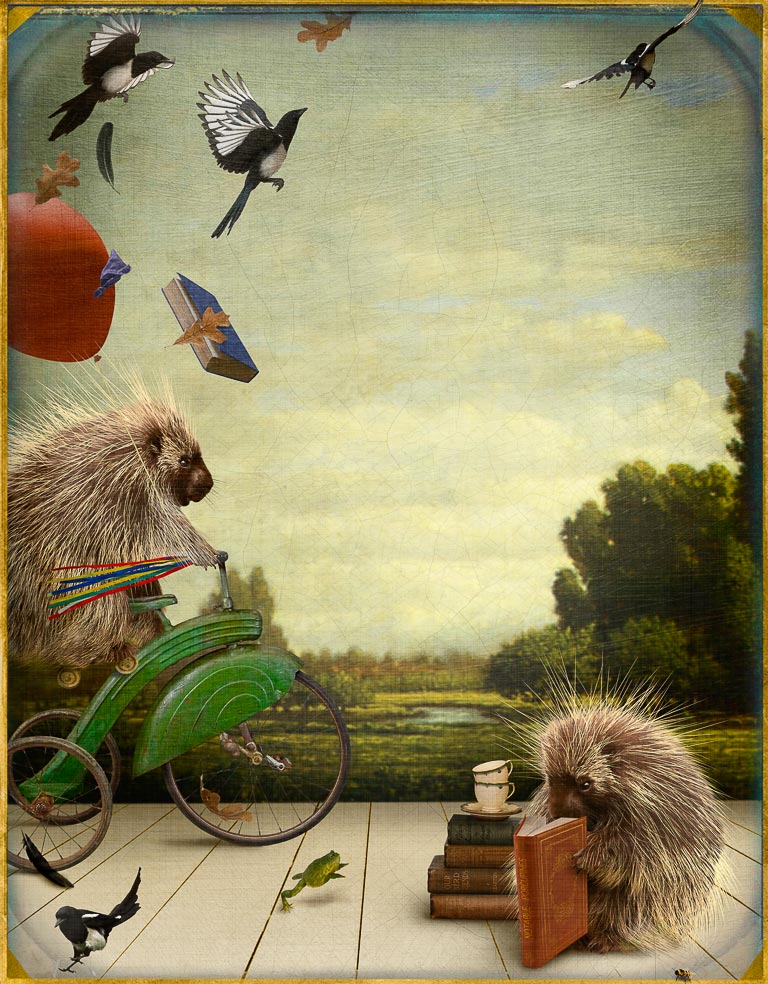 I love it when people say "There are two kinds of people". This phrase is followed by a statement describing what differentiates the two types. For example, "There are two types of porcupines in the world: those who ride tricycles wearing roller skates and those who read and drink tea." My attention perks up whenever someone talks about two types. It's revealing.
My porcupine model for this picture is a Minnesota porcupine named Dirk. He's like the porcupine on the tricycle. He's naughty. You shouldn't visit him wearing red shoes.
I chose primary schoolyard colors for this picture – red, blue and green – because the thinking behind the phrase is simplistic. Also because I don't think Dirk will make it out of grade school.
All this begs the question: Which kind of porcupine are you?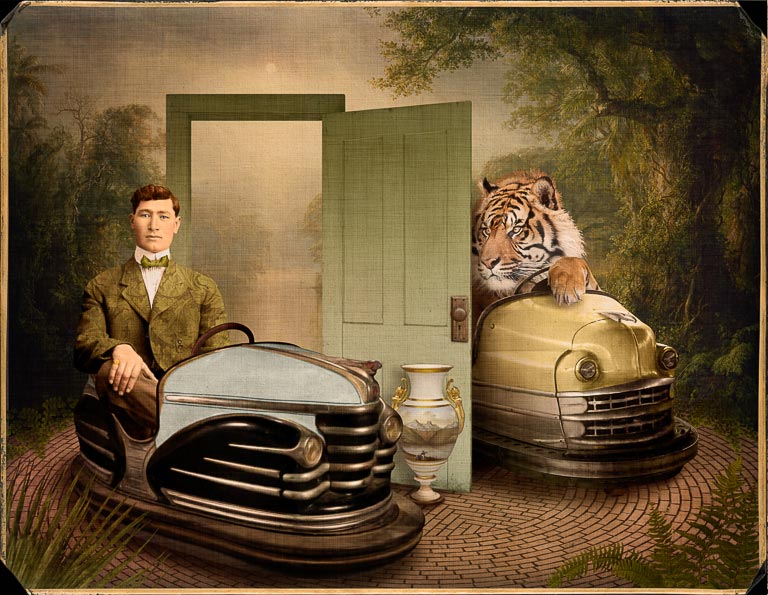 "What Happens in the Jungle" is a cautionary tale- a theme in art and literature meant to warn about a potential danger. The action happens left to right, as if you're reading or looking at a comic strip.
A dapper man sits casually in the left bumper car, oblivious to his predicament. He's come through a civilized door and is well-dressed. His car is robin's egg blue, a day-dream color. That's his world.
However, his jungle print jacket foreshadows jungle drama to come. He may not know what's about to happen, but his jacket does.
A tiger sits opposite, crouched over the steering wheel of his bumper car, focused in his hunt. His car is yellow for danger.
The fulcrum of the composition is a delicate urn on a narrow base, suggesting the fragility of life.
The landscape around them is dark and might hide troubling things. The sun is small and obscured behind clouds. The jungle is encroaching on the bricks. The bumper cars are on a circular platform, making the outcome unavoidable, and perhaps recurrent.
I have 1,453 photos of tigers to choose from. I used three together to make this tiger.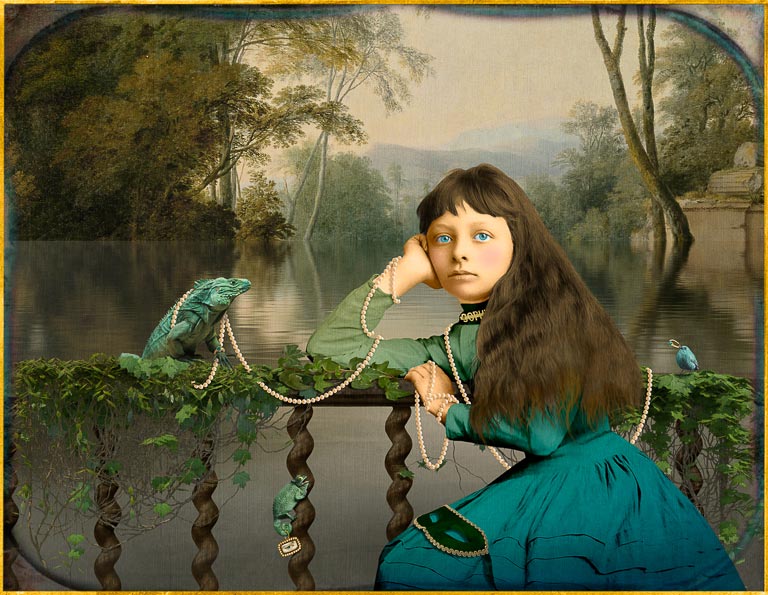 The photo I used for the girl in "After the Heist" was taken by George Edward Anderson, a prominent photographer of the west in the early 1900's. My great-great grandfather was his business partner for a time. Many of my family photos were taken by Anderson. Anderson had a gift for relaxing people in front of the camera and bringing out the heart of who they were. Many of the people look deeply into the lens, as Sophie does here. We know her name is Sophie, because of the pin on her collar.
The accomplices are relaxing after the heist. I'm fascinated by "Lover's Eye" jewelry. The chameleon is too and has stolen a nice one. The bird took something just his size, a little ring with a stone the same color as himself.
I wanted to connect the characters together visually with a string of pearls. I painted separate pearls in Photoshop with Photoshop brushes I've made, put all the pearls together into strands, one by one, and rotated them so their highlights and inner shadows worked with the picture's light source.
I like mixing a humorous subject with a serious, classical landscape. Here I've used bits of "Diana and Her Nymphs" by Laurent de La Hyre, 1644 as a background.